Corghi EM9580 Wheel Balancer
Wheel Dimension Detection. New digital gauge for acquisition of diameter and distance. Maximum precision and smoothness with integrated FSP (Fast Selection Program) function which automatically activates the balancing programs, avoiding keypad selection.
Automatic positioning. At the end of the spin the wheel is braked
and automatically brought to the balancing position. The integrated
LED light illuminates the work area to facilitate rim cleaning and application of the counterweights.
Application of adhesive counterweights. The adhesive counter weights can be positioned extremely rapidly using the laser pointer at 6 o'clock (LPS, laser pointer system) or by using the weight tray clip.
AWD (Auto width device) measuring sensor – Automatic
width measurement (on request)
Contactless device that makes
the wheel dimension acquisition phase extremely rapid.
Automatic wheel clamping (EM9580-C version only)
New electromechanical system which reduces working times and
increases centring precision.
Every program for the professional.
OPT FLASH, HIDDEN
WEIGHT,
SPLIT WEIGHT, MULTI-OPERATOR.
NaviSystem Controls and menu navigation are quick and easy. Just
a click to directly access each program.
AWC – Auto Width Calculation.
Reduced wheel data entry times thanks to the AWC function which suggests the most probable width value (in the absence of the AWD measuring sensor).
Weight Management (on request)
Special program collection
including LESS WEIGHT which reduces work times and the amount
of counterweights used, increasing the economic benefits and environmental protection.
USB ports.
For connection to peripheral devices and easy software
upgrading.
Weight tray.
Ergonomic and functional, with large trays for the
different types of counterweights and tool positioning.
Space-saving wheel casing (patented).
Designed to allow positioning of the wheel balancer against the wall and to accommodate wheels with diameter of up to 44" (1118 mm).
Inclined front part to improve operator access to the inside
of the rim
Optional "Weightless effect" wheel lifter.
Predisposed for direct connection to the new TT-0 wheel lifter which eliminates operator effort, speeds up routine operations and ensures perfect centring thanks to the self-balancing function.
Standard accessories
pliers, width gauge, calibration slugs
and wheel centring and locking kit 42-118,5 mm.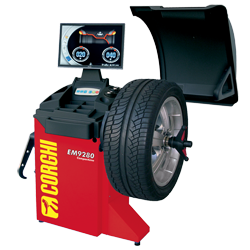 Corghi EM9280 Wheel Balancer
Versatile and compact with extraordinary performance. Fully automatic cycle, electric clamping brake and position search function at end of spin. Comprehensive, intuitive graphic interface. Digital measuring sensor for wheels up to 28". The perfect balance between price and performance for the wheel service professional.