Ravaglioli is a highly successful Italian manufacturer of lifts, aligners, balancers, and other products and they're making their grand entrance into the U.S. market!  From the design to the materials to the assembly, everything RAV makes is pure Italian and of the highest quality.  Check out some of their alignment equipment below!
Wireless data transfer using state of the art Bluetooth technology for speed and reliability. Eight CCD optics deliver additional collision angles helpful during diagnosis of chassis. System is highly mobile and can be positioned anywhere in the workshop. Patented non-runout Fast Clamps provide the ultimate in accuracy, speed, and versatility. Guarantee of precision accuracy furnished by Ravaglioli.
Fast Operating – One of the world's fastest aligners with complete measurements in 3 minutes.
FastClamps – The industry's best wheel clamp is more precise, easier to install and more versatile.
Runout compensation eliminated – This time consuming procedure is no longer necessary.
Simple operation – Only 4 keys/commands to control entire program. No computer skills needed.
Premium alignment software – Crisply professional program managed by Windows XP Pro.
3-D animated adjustment graphics – Guides operator thru the alignment process surely and quickly.
Movie Program – Hundreds of adjustment illustrations and video to inform the operator about the chassis.
Huge vehicle data base – 90,000 vehicles contained in vehicle data bank.
Quick select- Vehicle entry by make, model or by keying in portion of VIN.
Innovative Sensors – Lightweight but durable sensor heads using 8- CCD infra red technology.
Four Remote Controls – Each sensor head is a remote control-eliminate extra steps.
Quick Diagnosis – Collision angles including wheel base, offset, and set back measurements.
Spoiler Program – Allows the system to function if one or both ends of the vehicle has a blocked beam.
Calibration Check – system monitors its calibration status and warns the operator when tolerance has been exceeded.
EZ Calibration – With optional calibration hardware a complete system calibration can be performed in 15 minutes.
EZ Program and Specification Updates – Upgrades can be quickly done via internet connection or by USB key.
Backed by the Industry's Best and Most Innovative Service and Support Program!
Faster Service…More Professional Service…Less Maintenance Cost…Less Downtime
FREE ACCESS TO TECH SUPPORT LINE FOR LIFE OF EQUIPMENT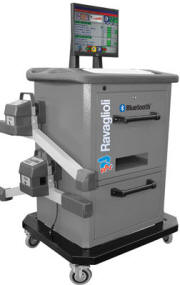 The World's First Bluetooth Truck Alignment System
The latest in truck alignment technology, the RAV TD8080T was developed with truck alignment specialists in mind.
Easy measurement of multiple axle vehicles using an extremely easy to follow procedure.
Faster and more reliable data transmission through Bluetooth (radio can be a problem on large vehicles).
Ability to operate the system from any head.  Often you are a distance from the console and this slows down the operating speed.
Simple, efficient, fast, and accurate to ensure maximum profitability.