Bosch has a ton of innovative alignment solutions for your shop to increase productivity and profits.  Superior precision and repeatability make Bosch a great choice for your shop!  Check out the brochure for the Bosch family of alignment machines, including the one you see below, in this document.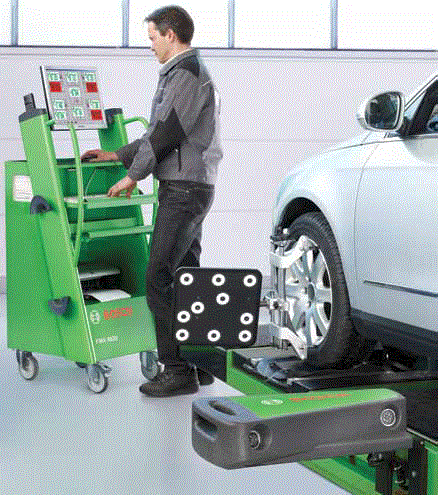 Precise and efficient wheel alignment for all passenger and light commercial vehicles using the most advanced 3D technology
Capable of performing alignments in as little as 7 minutes
Space saving — there is no required bay depth for fixed installations in front of the alignment rack.  Portable, hinged brackets allow the ability to move the camera pods as needed without having to recompensate.
Reduced setup time — simple and accurate positioning of measurement boards and camera pods to save valuable time, lifting the vehicle is no longer required
Fast and accurate measurement — fast rolling runout compensation with consistent, simultaneous accuracy on all four wheels with high reproducibility of results.
Fully mobile for alignment or audit use — on-side calibration during installation is not required.  Camera pods can be attached to any alignment rack, alignment pit, or no pit at all.  Simply place cameras on the floor, next to the vehicle.
Tough enough for daily operation — ergonomic, bump and shock proof design with extruded polypropylene housing provides safety for mechanics, the vehicle and measuring technology.